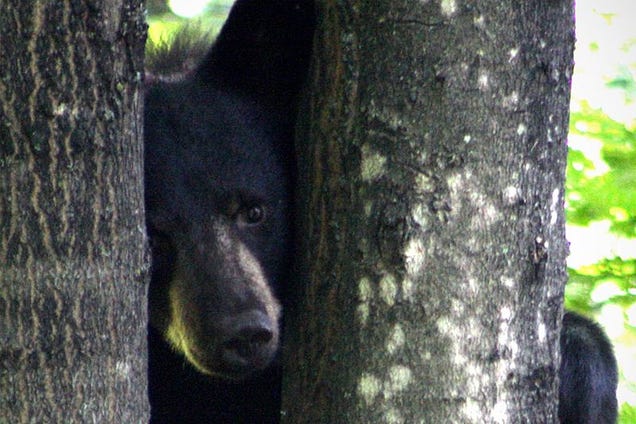 Scientists working at the National Institutes of Health are usually concerned with problems like infectious disease and brain development. Yesterday, they were concerned with a black bear who found its way onto their campus.
According to Bethesda Magazine, black bears have been making themselves more and more visible in Montgomery County. The NIH intruder marked the fifth bear sighting this week alone (though several sightings could have been of the same bear). When the bear was first sighted, wildlife officials used noisemakers to scare it out of a tree, where it could be safely tranquilized and relocated. They succeeded in chasing it out of the tree, but the bear decided to relocate itself to a pine tree on the NIH campus - bypassing the campus's security fence, which was built after 9/11 - in Bethesda, Maryland.
By mid-day, the @NIH_Bear had its own twitter account.
I've been in a lot of science labs. And @NIH has *the* most delicious monkeys.

— NIH Bear (@NIH_Bear) June 19, 2014
Things I've learned by being a bear on the @NIH campus: the honey bee decline is not being addressed nearly urgently enough.

— NIH Bear (@NIH_Bear) June 19, 2014
OK here's a research topic, how can we keep the eagles from stealing our fish?

— NIH Bear (@NIH_Bear) June 19, 2014
Fucking eagles. "We're dinosaurs! We're symbols of our nation's greatness!" You're lizards with wings.

— NIH Bear (@NIH_Bear) June 19, 2014
Who among you has not, when funding decisions weren't going your way, climbed a tree on the @NIH campus and eaten a librarian?

— NIH Bear (@NIH_Bear) June 19, 2014
Four hours after wandering on the NIH campus, wildlife officials managed to successfully tranquilize the bear, who was relocated to more appropriate bear territory in the McKee-Beshers Wildlife Management Area near the Potomac River.
@NIH_bear in custody. To be released near Potomac river in Montgomery Co @wusa9 pic.twitter.com/ydZn1QIIZP

— Scott Broom (@scottbroom) June 19, 2014
Here he is, shaking off the effects of the tranquilizers as the 150 pound bear woke up in his new forest home. It's always nice when a story like this has a happy ending.
They may tranquilize @NIH_Bear, but they can NEVER TRANQUILIZE SCIENCE!!

— NIH Bear (@NIH_Bear) June 19, 2014
As of this morning, the NIH Bear continues to advocate for more research into bees and colony collapse disorder.
Look humans, it's simple: no bees = no honey. But also no flowers. No herbivorous sexual reproduction. No fruit. #savethebees

— NIH Bear (@NIH_Bear) June 20, 2014
Header image: A different black bear, in a different tree (Source)